Welcome to our class page! Here in year 5 we take a creative approach to the curriculum. We endeavour to inspire, motivate and ignite creativity. Our current topic is The vikings!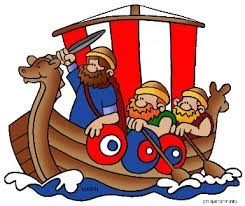 In English, we are always thinking about using the skills we have acquired in our writing. This includes using a range of complex and multi-clause sentences as well as simple sentences. During our guided reading time we practice lots of different skills, including comprehension and using dictionaries. We also have an opportunity to read with Mrs Jarman every week.
Our learning commitments this term are:
English
To make appropriate sentence choices.
Maths
To apply the correct method to solve a problem using any of the 4 operations.
Reading
To find and retrieve information.
In year 5, we are really good at presenting our work neatly: we always join our handwriting and write with a pen!
We would like to remind you that homework is always due in on Thursday and that reading books and P.E. kits must be in school every day. Please do take them home on Friday for washing over the weekend though!
Within our maths lessons we are working on different methods to solve questions involving the four operations. We are also thinking about how we can apply these skills to other areas of the maths curriculum. We also have time to practise our times tables every week!
Our whole school values are:
Love of learning

Honesty

Kindness

Hard work
We are always on the lookout for children who uphold these values at our school. Their efforts are recognised and rewarded during our Friday Celebration Assemblies.